September is Bike Month this year and Warner Connects wants to help you celebrate by offering prizes for getting around Warner Center on two wheels!
Win Prizes!
The first rider to complete all three Bike Month Challenges will be awarded $30 in gift cards to their choice of Starbucks, Panera Bread, Panini Cafe, or a combination of the three! Two runners-up will receive a $10 gift card to one of the above eateries. The last day to compete is September 30, so get out there and start wheeling around Warner Center!
Upload a pic to social media and tag @warnerconnects or send photo evidence showing that you completed each challenge to info@warnerconnects.org.
Challenge 1: Ride the Orange Line Bike Path
Take a ride on the Valley's most comfortable and breeziest bikeway! The 14-mile long Orange Line Bike Path extends nearly the entire length of the G Line busway. It offers protection from cars and has plenty of trees to provide you with shade while you pedal.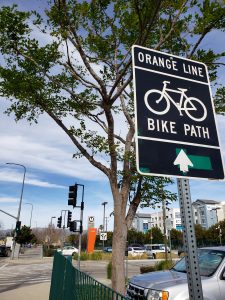 Send us a photo of you and your bike at any point along the path for a chance to win.
Challenge 2: Find the Themed Bike Racks
What kind of a challenge would this be without a scavenger-hunt component? So ride your bike and try to locate these bike-shaped bike racks (clever, we know) in Warner Center.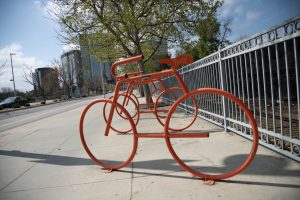 Send us a photo of your bike locked to one of these for a chance to win.
Challenge 3: Show Us You Ride Safely
Safety is the most important thing when you ride! Prove you know how to bike safely and set the example for other cyclists out there.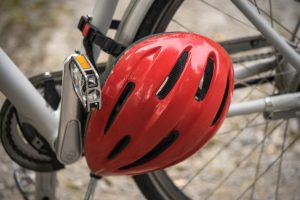 Send us a photo of you wearing your helmet and signalling to stop, turn right, or turn left for a chance to win. (Please do not ride and take photos at the same time, stationary selfies are acceptable)