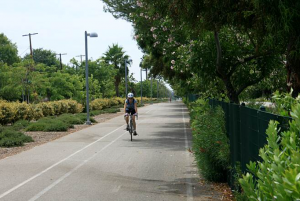 Refreshing, energizing, serene… you probably wouldn't use these words to describe your daily commute if you're driving. Contrary to popular thought, it doesn't have to be this way! In preparation for Warner Connects' Bike to Work Day Pitstop on May 18th, we've assembled a guide for trying out the underrated, joy-producing contraption known as the bicycle.
Benefits of Biking to Work
First, let's address what you're probably thinking – driving is convenient, biking is not. Sure, there are conveniences that come with driving, but they come at considerable costs that you might be underestimating. Biking to work doesn't have to be a daily habit to reap the benefits, even once a week could make a huge difference in your life and your money savings. In fact, riding a bike to work has been found to contribute to weight loss, cardiovascular health, lower risk of cancer, boosted cognitive function, and, yes happier commutes (1, 2, 3). To see how much money you could save specifically by commuting by bike once a week, compare your data using our Commute Calculator tool.
Still – will committing to Bike to Work Day involve more effort than simply driving to work? Yes. Let's be straight up about it. BUT, we wager you'll find the benefits outweigh the costs on this one. Not sure how to begin? We got you covered with your first route and other essentials. 
The Plan
While there are actually quite a few bike routes you could take in the Valley, we're going to start you off on the crown jewel of the area – the Orange Line Bike Path. Seventeen-point-nine miles of exclusive, smooth, and lush active mobility glory. On this path you won't have to worry about traffic as the path is physically separated from the roadway – with the exception of crossing intersections. Instead of stressing about the typical stop-and-go routine, you can enjoy a connection with nature that we all miss too often living our urban lives.
To get to this path you can use transit, walk, or, you guessed it, bike. All of the LA Metro buses, including the Orange Line (G Line), are equipped with bicycle racks on the front of the vehicle – here's a video tutorial for how to use a Metro bus bike rack. To plan your arrival via transit, we recommend you use Metro's official app Transit.
What's great about this bike route is that it runs along the Orange Line busway so you can choose how long you want to ride with the option of hopping on the bus whenever you'd like. Here's a map of Metro's Valley service which shows each of the Orange Line stop locations and here's its schedule – FYI it makes stops about every 15 mins. If you want to go all in and bike all the way from home to work, you can use google maps which will guide you along all the bike lanes possible – just set your destination for a spot along the Orange Line Bike Path. You can also check out a comprehensive map of LA bike lanes here.
You're almost set! To wrap up this guide let's touch on some other essential considerations.
Safety first – make sure to wear a helmet doggonit! No explanation needed. Wearing bright clothing or a safety vest are also recommended.
Bike Parking – identify a spot where you can park you bike securely, that might require you having a lock, or confirming with your employer that you can bring your bike inside – we recommend the latter if there is space.
Beat the Heat – it can get hot out here in the West Valley, so we recommend bringing a (reusable) bottle of water. You may also want to take breaks along the ride in the plenty of shaded areas along the Orange Line Bikeway.
Apparel – to stay clean for the work day, there are a couple of things to consider. First is the kind of pants you'll wear. Shorts might be the best option, but in case you'd like to wear long pants, we recommend you employ one of the methods listed here to ensure your gears don't get too friendly with the bottom of your pant leg. We like the classic sock-tuck method – a badge earned by only those valiant enough to embark on the path less taken.
Tidying Up – you might want to pack a toilette and other toiletries that you can use for a light bird bath if you don't have showers in your place of work.
There you have it! Like we said, biking to work does involve more effort than driving, but why not give it a try? You have the other 364 days of the year to go back to the pleasantries of bumper-to-bumper traffic. We say give this switch up a chance and bring your co-workers along for the most enjoyable commute you've had in a while.  If you have any questions, feel free to reach out to info@warnerconnects.org. See you out there!